At Life Sherpa, we often have conversations about employment and workplaces with our members as we enable them to get more life from their money. So, this month, we wanted to share some key insights in relation to the cultural trends in Australian workplaces in 2023 and how Life Sherpa Finwell is making a real difference.

With rising inflation and interest rates, and the growing need for Australian employers to strengthen their People Care Programs in a highly competitive employment market, we know that employers are increasingly focused on providing wellbeing support for their people.
A recent report from Drake Wellbeing Hub said,
Businesses, large and small, are recognising the importance of nurturing a supportive work environment that prioritises mental health. EAPs (Employee Assistance Programs) offering counselling services, mental health days off, and wellness programs are becoming increasingly commonplace.
A similar report from Skillwork found that 90% of employers are investing in mental health programs. However, they warned that changing culture must start at the top, so leaders must make mental health an organisational priority for those initiatives to be effective.
Company culture statistics show that organisations that prioritise employee mental health and wellbeing show higher levels of employee satisfaction.
Aside from mental health and wellbeing, have a look at which other trends were found across the two reports: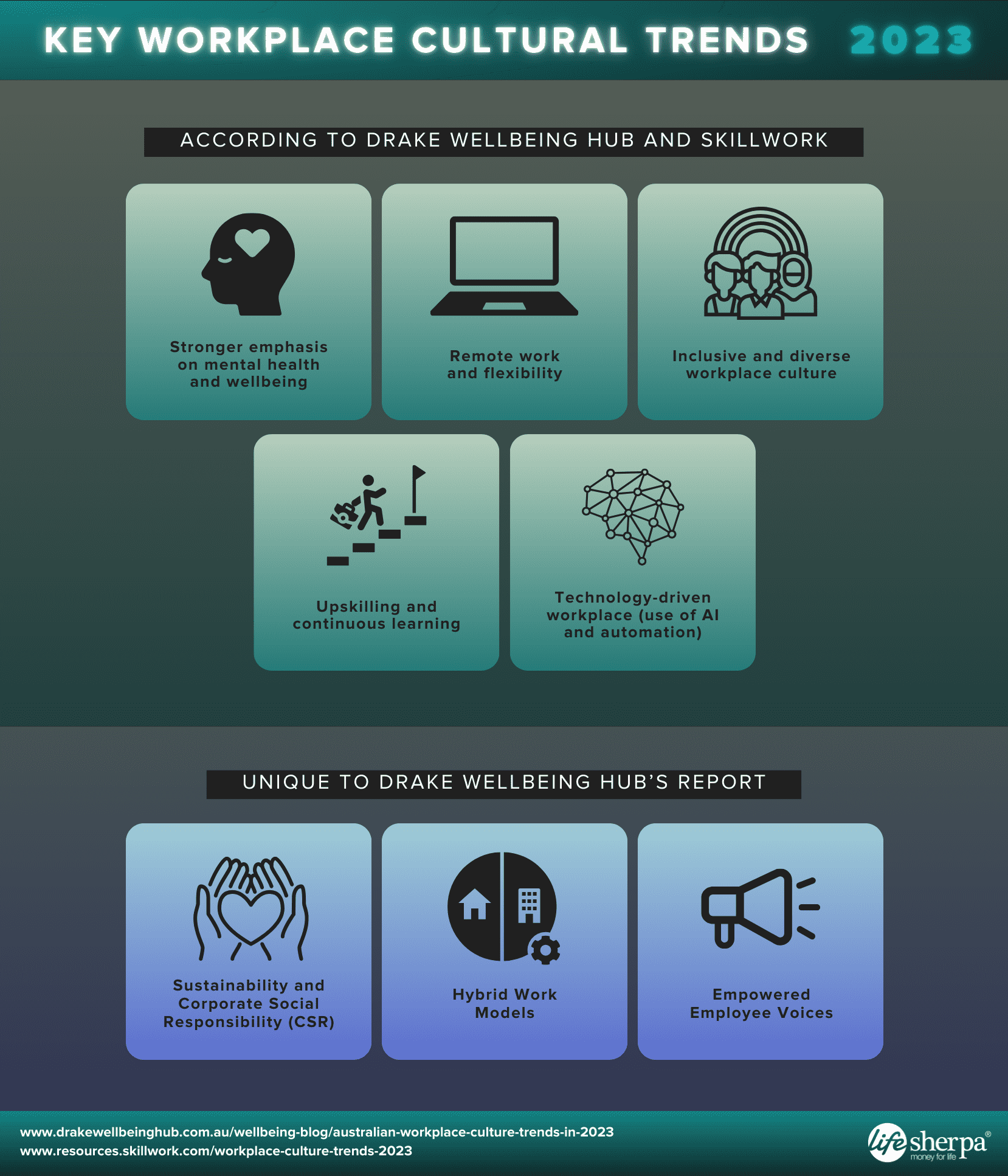 It's no surprise that both reports identify wellbeing as a key trend, but are organisations approaching it the right way?
Consider:
There are 7 elements to holistic wellbeing: physical, mental, financial, occupational, relational, spiritual and recreational.

The number one cause of stress in Australians under 45 is financial worries.
While both the focus and intent is growing strongly amongst organisations, there is a big missing link.
T
h
ere is
a consistent misconception that Employee As
sistant Programs
deliver profess
io
nal fi
nancial advice and promote financial wellbeing.
Although some provide a level of financial counselling, the truth is that they rarely p
rovide financial advice and are typically accessed only in emergency s
ituations
.
They also do not provide robust financial literacy, nor do they proactively influence or improve financial habits.
Life Sherpa is closing this missing link through our employee financial wellbeing program called Life Sherpa Finwell.
Through Life Sherpa Finwell, we provide accessible and affordable advice for all Australian employees.

We've already partnered with many organisations, such as Black Dog Institute, to help their people become more in control of their financial world.
Whether it's with budgeting, home loans, insurance, super or investing, we can help your people live the life they want with the money they have. So that they come to work more focused and energised.
So how does your employee benefit program stack up?
Click here to explore how Life Sherpa Finwell can help make a real difference to yourself and the team you work with.

Jason Dunn
Director of Partnerships
Jason's career in financial advice spans 35 years and incorporates CEO and Senior GM roles across privately owned and publicly listed top 10 ASX companies. Jason also competes as an ultra-endurance elite athlete in Ironman triathlons and extreme running races around the world. While his experience is broad, Jason is most effusive about creating exceptional client experiences, based on thousands of hours of direct client engagement, as well as helping people to live their best life with the money that they have.
Related Articles
Sign up to learn more money management tips!
Trending Articles
Why not take a quick quiz?